Spring just began, the birds are singing, the flowers are blooming and the sun is starting to shine. This is, in my opinion, the best time to visit Lisbon.
Spring allows you to walk through the old town without having to carry an umbrella, it allows you to seat outside one of the many historic Cafés in Lisbon, sipping a coffee and feeling the warm temperature of spring time.
This is also the perfect weather to get in touch with nature and visit some of the gardens that Lisbon has to offer.
In the middle of all the history and all the culture you will find small oasis that will help you catch your breath in a fresh and reinvigorating environment.
Here are some tips of how to enjoy nature in the city:
-
Jardim Botânico da Faculdade de Ciências
- This garden is on the hill that houses Bairro Alto and Príncipe Real. If you peek through the lush vegetation and some strategic points of the garden, you can see the Castle of São Jorge. The first plants were put on earth in 1873 and the garden opened to the public five years later. It is a compact garden filled with lakes and waterfalls and plant species from around the world where there were Portuguese colonies.
-
Jardim Fundação Calouste Gulbenkian
- Located in the heart of a business center of Lisbon this modern garden covers nearly 8 acres and was designed by Antonio Viana Barreto in 1957, having had a collaboration of Gonçalo Ribeiro Teles in the sixties. It's a pretty cool haven with a lake, stream, terraced garden, trails through woods and up an outdoor amphitheater in the evenings where you can see the hottest concerts and shows.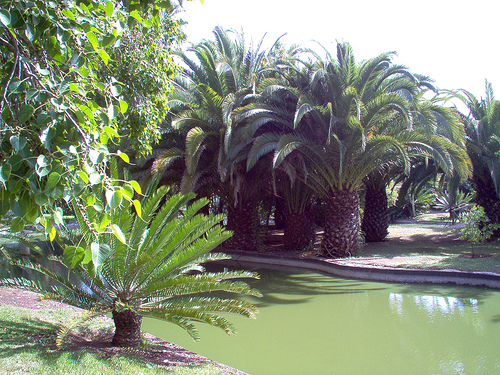 -
Jardim Botânico Tropical
- This garden of 6 acres next to the Palácio de Belém ( Official Residence of the President) has over 400 species of plants. Opened to the public at this site in 1912 under the name of Garden or Garden of the Overseas Colonies because most plants came from former Portuguese colonies. It has a strong cientific inclination which means that inside the garden you can find a seed bank, greenhouses, laboratory in-vitro culture and a wood collection.
Perfect tips for a perfect weather!